Cancer Free For 20 Years – available in paperback and Ebook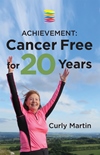 New book now available as a paperback as well as an EPUB and MOBI and 50% discount on the website. 'A very interesting, amusing, and thought provoking book. A good, easy read. I love the fact that the author did not accredit her health and recovery to any one thing – but all the 'little steps.' Jackie Hammans

In 1992 I was told I had nine months left to live. Since my terminal diagnosis of breast cancer and an aggressive form of lymphatic cancer, I am now an international bestselling author, professional speaker and I have built a successful coaching business, I am married and living a happy and healthy life. None of this would have happened had I not been diagnosed with cancer. I am not saying this to impress you; I am saying this to impress upon you, that cancer can be the most powerful catalyst of change.
'A lovely inspiring, uplifting and funny read. Reaffirms to seize the day, every day!' Prue Gent
Throughout this book I will be telling you my story at each stage of my journey. What happened, how I handled it, the outcome (if applicable, or if it adds more information for you), what I was offered in the way of medical support, what I did, what extra things happened and any other titbits to inform and amuse you because as you will read here in the book, I believe humour is a great healer.