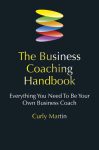 Life Coach, Business Coach, or any other niche coach or person practising coaching. You will already be aware of the need to register with the information commissioner Office. All the documents you hold electronic or paper based containing personal data will need to have details on where it came from and with whom you share it.
Making sure that you have these details in place will help you to comply with the GDPR's accountability principles. One of these principles requires organisations (this includes life and business coaches who hold information) to be able to show how they comply with data protection by having effective policies and procedures in place. If you share information and if you have inaccurate personal data which you have shared, it is your responsibility to make sure you and the person/company which you shared the information have correct records.
Imagine you are working as a business coach and have sold a GDPR programme of coaching (as I suggested in the first blog on this topic) you may need to think about how to organise an information audit, across the companies you work within, or even an audit within particular business areas.
Again, as I stated previously, this is a great business opportunity for coaching where you can design a GDPR programme specifically for the companies you sell your coaching into, by combining your knowledge of both, to produce a perfect business opportunity for your business coaching company.