Life Coach Gets Naked!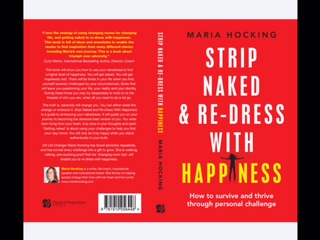 I am delighted to share with you a new book written by Maria Hocking who trained as a Life Coach with me many years ago and thankfully still keeps in touch and shares her successes.
Maria says:
"Strip Naked & Re-Dress With Happiness is a guide to surviving and thriving through personal challenge. The author, Maria Hocking shares a very strong message within the pages of this book, 'Adversity doesn't break you, it makes you'. Maria shares her own personal story alongside 'changing room tips', which are the steps that helped her re-dress with happiness when faced with adversity. An emotive, compassionate, creative and courageous story, with a raw honesty that every reader can connect with. You will want to return to the changing room time and time again!"
"I trained to be a life coach with the Curly nearly 12 years ago. The course opened up my mind and my life to a whole new amazing world. Since then, my career has only gone from strength to strength. The course proved to be a rock solid foundation for future training in associated fields. It has also had a huge and very positive impact on my family. We live how we want to live, do what we want to do and have never been happier. It was one of the best investments that I have ever made."
I wish Maria huge success with her new book.