Insolvency and the self-employed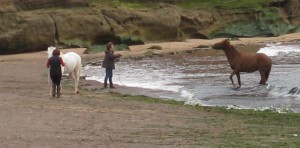 There are according to the Citizens Advice Bureau 4.55 million self-employed workers in the UK. I think this is great. I love it when someone takes the plunge and grasps the reins of their own destiny. The trick is being able to ride the self-employed horse into the beautiful sunset of a successful career and not falling off at the hurdle.
In my experience, most people when learning to ride a horse do not just jump on bare back and ride safely. Normally, new riders take lessons in not only how to ride but as importantly how to tack up (put the saddle on – the thingy you sit on) and how to maintain the tack so that it is safe to ride on. Also, as we are on the horsey theme, usually the horse has been broken-in (trained – not as in; thief – breaking into a horsebox) by a qualified and experienced trainer.
Over 19,000 self-employed people contacted the CAB in Q4 2013 regarding personal debt. Over 19,000 in one quarter of a year! This is mind blowing. Within that number there will be some coaches. I would expect the coaches who are in debt are the ones who have jumped on the back of the Coaching horse hoping to catch up with the gravy train (I know, I know, mixed metaphors – just could not resist) known as Life Coaching.
There is a misconception that Life Coaching is easy and anybody can do it. The other misconception is that 'there is easy money to be made in Life Coaching'. Now I am not saying that either of the above sayings are not true, just that they are true for coaches who have trained, spent time learning the craft and learning how to build a successful business. They have, metaphorically speaking, spent time learning about the horse, the tack and how to ride safely.
The Voice, the Federation of Small Businesses (FSB) regional magazine, states that almost 60% of the self employed people seeking debt advice had used credit cards, unsecured personal loans and overdrafts to keep their business going. During the diploma course, I explain the difference between being self-employed and Limited (either Limited company or Limited Liability Partnership) and the financial exposure of being self-employed.
If the coach has not bothered to get training or spent time thoroughly researching how to become a successful coach, I find it hard to sympathise. If you jump on the back of a bronco (untrained horse) you will fall off! My sympathies lie with the coaches who have invested in training and the course they selected did not cover the financial implications of business set-up.
In 'The Personal Success Handbook' I have written a chapter covering the basic understanding of personal finances. Within the chapter I cover:-
What is Net Worth
How to discover your expenditure
15 tips for saving money
Risk and your attitude to it
Income generation ideas
How to protect your money
If you are worried about your situation there is help available and the quicker you take action the better. It is easy for me to say this and I know it is very hard to face up to the debt. Nowadays there is no stigma to getting into debt, only most people still feel shamed and humbled by it. It is this shame that can prevent action and the delays cause escalation. Please take action, even if it is just giving me a call – that is simple!
Hire one of our coaches to work with you on a plan. I hear you shout 'I AM IN DEBT I CANNOT AFFORD A COACH!' I believe you cannot afford not to seek assistance. Also, some of our coaches offer pro-bono or bartering which would make it easier for you.  http://www.achievementspecialists.co.uk/Life_Coaching/our_coaches
Here are a couple of places to start if you prefer to go on-line.
Citizens Advice Guides
http://www.adviceguide.org.uk/england/debt_e/debt_help_with_debt_e.htm
Stepchange Debt Information
http://www.stepchange.org/Debtinformationandadvice/Debtsolutions.aspx
Take action NOW if you are worried about your finances. Please?