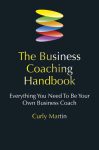 I mentioned a couple of weeks ago I would be posting some interesting and important details about the General Data Protection Regulation (GDPR) which is expected to come into force around the middle of 2018 so that all coaches, not just Achievement Specialists trained coaches, are prepared well in advance. As you will be aware, I strongly recommend that as a large part of growing your coaching business you generate referrals from your clients and your contacts.
The GDPR has references to both 'consent' and 'explicit consent'. Do you know the difference? Do not be alarmed if you do not at this stage. The difference between the two is not clear given that both forms of consent have to be freely given, unambiguous, informed and specific. You will need to show that your consent trail demonstrates agreement to personal data being processed. Important Tip: Consent cannot be inferred from
silence/assumption, using pre-ticked boxes or inactivity.


If you rely on individuals' consent to process their data be sure your consent process will meet the standards required by the GDPR. If not, alter your consent mechanisms or find an alternative to consent. REMEMBER that consent has to be verifiable and also take into consideration that individuals generally have stronger rights where you rely on consent to process their data.
Achievement Specialist coaches remember the wording given to you on the workshop during the business growth module. You can add this to your consent forms to make your process more robust.