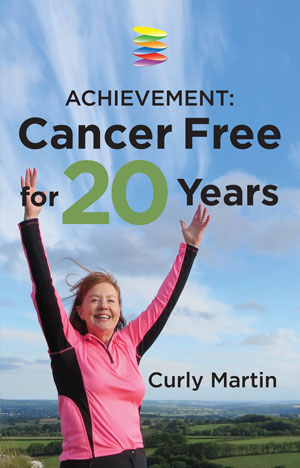 Finally my new book is now available on Amazon as a kindle book and the paperback version will soon be here.
Since my terminal diagnosis of breast cancer and an aggressive form of lymphatic cancer, over 23 years ago, I am now an international bestselling author, I have become the grandmother of life coach training, I have built a successful coaching business, I am married to a loving husband and we live in a fabulous house in the country. In 1992 I was told I had nine months left to live. This book is the story of my journey. I give you some of the strategies I used to overcome the cancer and how I created an outstanding life. None of this would have happened had I not been diagnosed with cancer. I am not saying this to impress you; I am saying this to impress upon you, that cancer can be the most powerful catalyst of change.
Throughout this book I will be telling you my story at each stage of my journey. What happened, how I handled it, the outcome (if applicable, or if it adds more information for you), what I was offered in the way of medical support, what I did, what extra things happened and any other titbits to inform and amuse you because as you will read here in the book, I believe humour is a great healer.
The book is written with a combination of storytelling and facts mingled together to entertain and educate at the same time. I understand this mingling of fact and fiction is now often known as a portmanteau edutainment. Whatever next? It makes the process sound like some syndrome, not the fun and excitement I like to combine.
If you are in the early stages of your cancer journey, you might find that the many things that happened to me, cause you alarm. Please do not be alarmed; not all the things that happened to me will happen to you. Probably not half of the things will happen to you, especially when you take into account the advances in cancer treatment which have been developed in the interim period. Remember, as you are reading, that I have written this book to reassure you that there can be a future beyond cancer and I hope that I also inspire you to live a full and varied life.