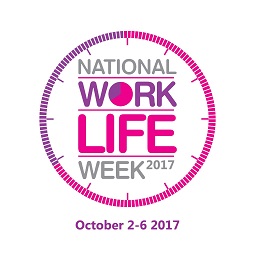 National Work Life Week 2nd to 6th October 2017 is great news for life coaches and business coaches as we concentrate on achievement with work-life balance. The week is all about employers and employees focussing on well-being at work and work-life balance. Employers are being urged to provide activities for staff, and to showcase their flexible working policies and practices this week. Employers who promote well-being and work-life balance will be augmenting their recruitment drives and speed up employing healthy, happy staff.
You can tweet @workingfamuk and join the conversation using #WorkLifeWeek
The week start with a National Work Life Week Conference this is on the first day of the week on Monday 2nd October and comprises the 2017 Top Employers award. The conference says that it will contain best practice examples and tools to take back to your workplace, be the first to find out the results of the annual best practice benchmarking survey. They will be announcing the Top 30 Employers for Working Families. If you are interested in finding the best companies to work for, ones which value you and your contribution join the chat.