When it is better to go on, rather than turning back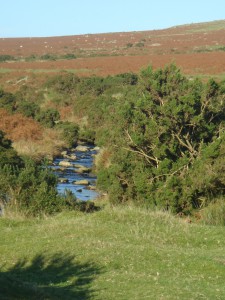 An interesting thing happened today. I joined a group of RDA volunteers for an end of term outing. We were going to go for a walk on the moors and then return to a beautiful Inn for lunch.
The sun was shining as we set off for our walk. After a short while walking on flat ground we came across a sharp decline which took us down to a moorland stream. There was the obligatory gnarled tree casting dappled shade over the running cool water. It was idyllic.
We then left the valley and started a medium ascent towards one of the moors famous tours. There was a little breeze and the sun was beating down. The group started to spread out as the leaders walked ahead and the stragglers slowed down creating a gap between us. I was in the lead group and after we had crested a mound on the tour we realised that the stragglers were no longer with us. So we waited a while and when they caught up they had decided to turn back. We arranged to meet them back at the Inn for lunch.
We continued to the top of the tour, which only took 10 minutes and the ascent had leveled off a little making it easier to walk. As we stood on the top of the tour the views were spectacular and we could see the other party making their way down the hill towards the valley. Once they had reached the stream we could see that they had to climb back up the steep sharp incline we had descended earlier.
We turned away ready to continue our cyclical walk back towards the Inn. As we were at the top of the tour we followed the pathway along the crest of the hill back to the road and then towards the Inn. The walk was easy, no huge inclines and no sharp declines. We arrived back at the Inn the same time as the other group, who although they had the shorter route, it included declines and sharp inclines to overcome.
Sometimes it is better to keep on going to the end of the journey, especially, if after great effort you are not far from the peak, than it is to turn back, bearing the burden of defeat.
I am sure lots of coaches have experienced clients turning back when you can see that their goal is so clearly insight. Please feel free to use this metaphor, if you think it will give your client the impetus to continue.