#Cancer-Free for 20 Years Excerpt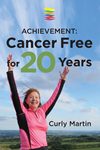 Chapter Twenty Excerpt
Daily Dozen Number 2
There are certain things that I do on a regular basis and although I have shared most of them with you throughout the book I wanted to put the things which I think are important in the maintenance of my #health in one chapter so you can easily find them. The daily dozen is not the whole picture of how I dealt with the #cancer diagnosis – it is only the 12 things I do now on a regular basis, 23 years later. The order of the daily dozen is not significant for me; I just do them in no particular order of importance, every day or once a week. Here is number 2 in the daily dozen list
Vitamins and minerals – I supplement my diet with vitamins and minerals. I know there are scientific studies which say that if you eat a balanced diet you do not need them. The challenge is that I cannot be sure the food I eat has been grown in soil which has all the nutrients I need. There is a strong possibility my balanced diet will be lacking in something. So I take a multi vitamin/mineral supplement every day to act as a back-up to the food I eat.
At the same time I take a 1000 milligram tablet of Vitamin C. Vitamin C is a water soluble vitamin which the body does not store and cannot make. I have to consume it. It is essential for healing wounds, it is also an antioxidant, supporting my immune system, and it forms part of the absorption of iron facilitation within my body.
I also take selenium because, like Vitamin C, it is essential for my body and my body does not make it. There is a lot of scepticism about the benefits of taking selenium only the information I read stated that there was not sufficient selenium in soil these days and being a non-meat eater I would have less in my food. So I take tablets to supplement.
I take various other supplements depending on the changes of my state of health. I am at the time of writing this blog about #cancer reading a marvellous book Niacin The Real Story, Abram Hoffer PH.D.,Andrew W Saul PH.D, Harold D. Foster PH.D. I am finding it a fascinating read as niacin is vitamin B3 and this means it is also a soluble vitamin which is not stored in the body. The book explains the many ailments that taking niacin can remedy.